EYESRUS WILL BE CLOSED OVER THE CHRISTMAS PERIOD FROM
DECEMBER 24, 2022 AND REOPEN AGAIN ON JANUARY 3, 2023
Mackay Optometrist – Eyes R Us
Mackay Optometrist, Eyes R Us is a locally owned, independent optometry practice that offers you friendly, complete, professional optometric eye care. We are an established optometry practice, first opening in 1997 and now located at North Mackay Central, Mackay. Staffed by optometrists, Dr Brad Kirkwood and Dr Natasha Westcott with an experienced team of optical dispensers. We pride ourselves in working with you to ensure you have high quality eye care. With a combined experience of over 30 years in eye care, Brad and his team will help you select eyewear that suits your eyes and lifestyle, with the latest fashion and optical lens technology.
Eye Examinations for All Ages
Eyes R Us offers comprehensive eye examinations for all ages. We are a provider for Veteran Affairs cardholders. Optical coherence tomography (OCT) imaging is available to evaluate retinal disease and optic nerve disorders. Corneal Topography imaging (Oculus keratograph 5M) is available to assess the corneal shape for contact lens fitting and monitoring corneal conditions.   An assessment of vision and visual tasks will be performed. The health of your eyes will be thoroughly examined to check for any current or future risk of eye conditions or diseases. Computerised visual field analysis and colour vision assessment is also available. Sore, red eyes can be treated.  Aviation optometry (CASA) assessments are available.
Consultation Fees
Virtually all Eyes R Us services and appointments are covered by Medicare. However, they are not Bulk-billed. You will be required to make full payment after your consultation. Our friendly staff will process the Medicare rebate with an EFTPOS card, and you will receive your Medicare rebate directly to your savings or cheque account.  Whilst we match the payment to the Medicare rebate, in some instances there will be a small out of pocket expense depending on your Medicare entitlement. 
The Best for You
At Eyes R Us Optometrists, our experience, professional eye care and access to the latest spectacle lenses and fashion frames ensure we will help you with all aspects of your eye and vision needs. Being an independent Mackay-based Optometrist, we are able to offer patients access to a wide range of spectacle frame manufacturers, the highest quality spectacle lenses, the latest fashion sunglasses and contact lenses. This ensures that the products and optical solutions we offer are the best available for you. Instant health fund claims are available. We also offer an exceptional warranty, back-up service, frame adjustment and repairs to all of our patients.
Wide range of Spectacle Frames and Sunglasses
Eyes R Us stock a great range of the latest designer fashion frames and sunglasses, from many leading eyewear brands such as Coco Song, Bill Bass, Flexon, Guess, Jaguar, Kaos, Lamatta, Mako, Maui Jim, Nike, Oakley, Oroton, Prodesign, Ray Ban and Stepper.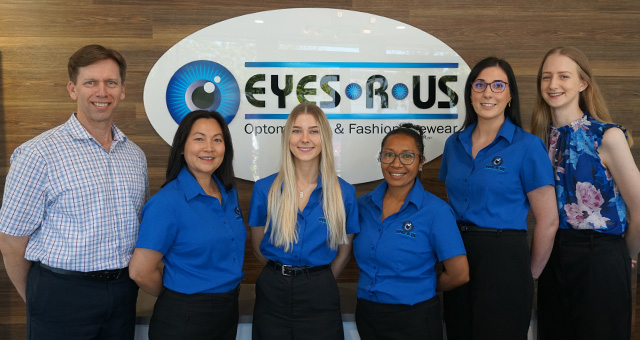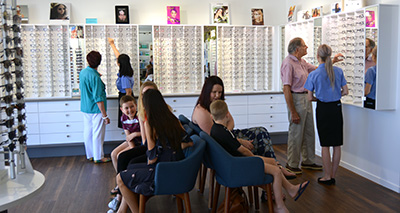 Brad and the staff at Eyes R Us have looked after all our families optical needs. I can highly recommend their efficient, affordable service and nothing is ever too much trouble.
Karen Watt
Brad was excellent when we had to take our daughter in to get her eyes checked. His calm and friendly nature ensured that it was a positive experience.
Matt Hodge
Thank you so much for your amazingly friendly service. You absolutely blew us away with your kindness.
Kailyn Goodson
Eyes R Us Mackay Optometrist
25/29 Evans Ave, North Mackay QLD 4740, Australia

Hours
---
Mon - Wed: 9:00 am - 5:00 pm
Thu: 9:00 am - 6:00 pm
Fri: 9:00 am - 5:00 pm
Address
---
North Mackay Central
25-29 Evans Avenue
North Mackay
QLD 4740
Contact Details
---
Phone:
07 4942 5266
Fax:
(07) 4942 2887